With sandy beaches minutes away
If you're looking for a really calm and peaceful vacation in Tuscany, spending time at the beach and in touch with nature, then I highly recommend you head to Hotel Ilio on the Island of Elba. This small boutique hotel has a special place in my heart since we stayed there on our last two visits to Elba, so much so that when we head back to Elba we'll surely go back to Hotel Ilio.
I would like to share what we loved about Hotel Ilio, so that you end up falling in love with the place as much if not more than we did.
The location: paradise
Visiting Elba is not only a wonderful experience, it is simply stupendous. Its waters are so clear they reflect the stunning blue sky and let you see deep into its water. From the sandy beaches to the stony cliffs and reefs, everyone will find a spot they'll fall in love with.
Elba is a place you head to specifically in Tuscany, since you need to either catch a short flight to Marina di Campo or drive to Piombino and then take the ferry. It is a place you seek, away from the most popular destinations in Tuscany, to rest, relax and regenerate by the sea. It is ideal for anyone looking for a "different" type of Tuscan holiday, away from the "cities of art".
As you can imagine, an island and its beaches are very popular in the summer when the weather and warm is perfectly warm. So it can start to feel a bit crowded at the height of the season. For this reason, if you have the chance to plan your time off, we highly recommend visiting Elba at the start or end of the season, in May or early June or late September/October. At these times, you can almost feel you have parts of the island to yourselves, especially as many families head back home for the start of school and work (remember in Italy, most everyone takes time off in August).
A Review of Hotel Ilio
We loved: the wonderful hospitality and service offered and the views!
Ideal for: for couples on a romantic getaway, families and anyone searching for a place to relax and regenerate
Hotel Ilio is located on the northwestern part of the island in Capo Sant'Andrea, a bit past Marciana. While you can certainly catch a bus to this small town, the road is on the cliffs above the town itself and there is a steep descent down to the coast and beach. Your own car would definitely be useful to get there and move around. The beach here is not really big, but it sits in a cove with a small, protected "pool" to one side perfect for small children. The rest of the beach is rock with many coves, perfect for anyone wishing to go snorkeling or diving.
The hotel: attentive, personal service and welcome
We spent 4 nights on Elba in September 2013 (and went back for 5 nights in September 2014) because we really enjoyed the time we spent there. Hotel Ilio was a large part of our overall Elba experience. While we toured the western part of the island and visited Portoferraio, Marciana and several beaches in the mornings, we would head back to the hotel in the afternoon to just rest and relax for the rest of the day before heading out to dinner.
The hotel is elegant, yet casual at the same time. We felt very welcome, despite our boisterous baby/toddler ;-). On arrival, we were welcomed directly by the owner, Maurizio Testa, who is very friendly and would always stop for a quick chat, asking about our plans for the day and offering tips and suggestions on hiking trails and beaches that would be perfect with our toddler. While the entire staff was very friendly and helpful, Maurizio was great! We felt he took time to make sure all was perfect and that we were enjoying our time there and on Elba
Our short vacation with our small daughter was very relaxing and enjoyable in this welcoming atmosphere, and is the #1 reason we will head back to Hotel Ilio on our next vacation to Elba.
Hotel Ilio in a Glance:
Type: hotel
Location: Elba Island
Distance: Portoferraio (for the ferry) - 50 min
Transport: a car is highly recommended
Rooms: 20
Sleeps: 40
Type of board: breakfast
A little more on the hotel itself: the hotel is spread out over the property, with the main building offering the reception, terrace (where you can enjoy breakfast) and breakfast hall on the 1st floor and common sitting areas and library below. There are bedrooms right above the terrace which have their own small terrace and enjoy great views of the sea. All of the rooms here have their own outdoor space, and everything is surrounded by gardens and, in between the vegetation, you will catch glimpses of the sea which is less than 50 meters below. To get to the beach, just follow the road on foot and you're there in less than 2 minutes!
A large garden right behind the main building offers many cushioned lounge chairs and small tables perfect for reading and just relaxing, with many of the bedrooms surrounding the garden and providing a very quite, relaxing setting. Several rooms are located closer to the main entrance to the hotel, so a bit separated from the main part of the hotel. Maurizio told us he was renovating and thus adding a special room away from the hotel, right on the beach of Sant'Andrea to offer guests the chance for a more secluded, romantic getaway with a gorgeous view of the sea - and since it was done, it has become the most popular room/suite in the entire hotel!
On our first visit, our room was one of those 4 rooms set further away from the main building right by the main road. It was quite whimsical with a "sea" theme but it has since then been fully redone to make it even more beautiful. It has maintained the mirror made out of tree branches washed and smoothed out by the sea, which gives it a special touch. This room has a balcony with a view of the sea although you can't see the beach itself as there is quite a lot of trees in between. On our second visit we stayed in an even larger suite below that had two rooms; both are very spacious and with their outdoor space and Wi-Fi available even here.
Breakfasts were splendid: buffet-style with lots of choices, from savory to sweet, with different options each morning. There is something for everyone! We always started our day out right, especially when we got happy faces on our cappuccinos ;-).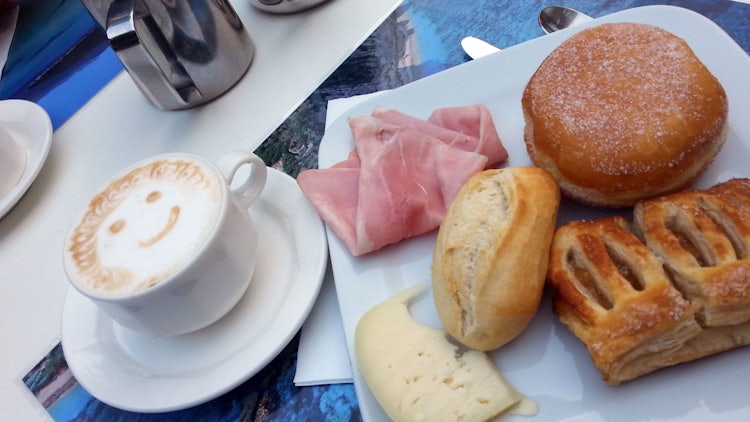 We loved our stay at this hotel, elegant yet friendly and casual at the same time, we felt welcome even with our loud baby along. If you're going to Elba for the first time, Hotel Ilio is a great base to explore the western end of the island. Drives across the island to the other side do take a while. You are less than an hour from Portoferraio, so it makes exploring very easy to do, particularly if you enjoy spending time outdoors whether it is at the beach, on the water sailing or on the trails either hiking or on a mountain bike. There are lots of options for everyone!
This is a Sponsored Article but reflects the honest opinion and experience of the author. More details »