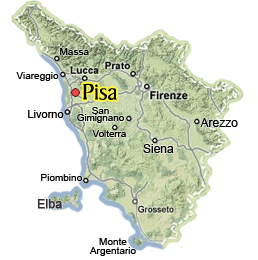 The Leaning Tower has made Pisa famous all over the world, and in addition to the tower, the city offers many other interesting things to see worth at least an entire day - check out our 1 day in Pisa itinerary to plan your visit.
When you first arrive at the beautiful Square of Miracles (Piazza dei Miracoli), your sight will be captivated by the magnificent Tower. Don't just admire it from below: the climb up the tower is a once-in-a-lifetime opportunity that we highly encourage you to experience. You will enjoy both the incredible climb as well as the amazing views from the top (you can buy tickets in advance as number of entries are limited every half hour)!
Once you have admired the Tower of Pisa from all angles (including the classic picture in which you pretend to support it to keep as a memento), continue your visit to the other monuments in the Piazza: the Cathedral and the Baptistery. Along the perimeter of the square, there is also the Cemetery, the Cathedral Museum and the Museum of the Synopses. Enjoy a leisurely walk along the Arno river and on your way, pass by Clock Palace to enter into Piazza dei Cavalieri, which was once the heart of power in the city and later the headquarters of the Knights of St. Stephen. In the Palazzo della Carovana overlooking the square, the prestigious Scuola Normale of Pisa has its base.
What else to do in Pisa? Eat cecina! It's a kind of very thin gluten-free bread made with chickpea flour, water, oil, salt and black pepper. You can eat the cecina alone or in a schiacciatina, a flat bread. A real treat you must try!
Annual events
Every June, Pisa celebrates the city's patron saint, San Ranieri, with traditional events following one another during the Giugno Pisano. If you are in Pisa at this time of the year, we suggest you spend some time in Pisa and enjoy the Luminara, the Regatta of San Ranieri and the Battle of the Bridge.