The beautiful landscape is the absolute protagonist
Medieval castles, sinuous gills, ancient villages, gorgeous farmhouses, isolated homesteads, roads lined with cypress trees, fabulous vineyards and olive groves and golden fields of grain and sunflowers: these are just some of the elements that form the fantastic and harmonious landscapes of the Val d'Orcia. This rich green valley, which encompasses the Orcia river and where it derives its name, is in southern Tuscany, stretching between the provinces of Siena and Grosseto. The entire area is protected as a World Heritage Site by UNESCO.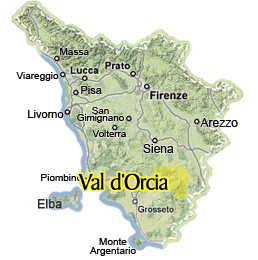 Time seems to slow down in picturesque towns like Pienza, a real jewel known as the "Ideal City" with its beautiful Palazzo Piccolomini. The small town of Castiglion d'Orcia with its fortress seems to take you back in time. At the furthest southernmost point, there is the hilltop town of Radicofani with its imposing castle tower, and if you go west, you arrive at the walled medieval city of Montalcino and the vineyards for making Brunello wine. A must-see is the beautiful and suggestive Romanesque Abbey of Sant' Antimo, one of the best examples of medieval monastic architecture remaining.
After a day visiting museums, ancient abbeys and castles, you can relax in one of the many thermal hot springs of the region, such as the ones in Bagno Vignoni or in Bagni di San Filippo.
This region is rich in high quality food items such as "pecorino" cheese of Pienza (a cheese made from the milk of the many sheep that graze the grasses in the area around the town), genuine extra virgin olive oil, gorgeous wine resulting from a long and ancient tradition, saffron, mushrooms, chestnuts, truffles, game such as wild board and other specialties along the wine road.
A vacation in Val d'Orcia is a special journey between flavors and marvelous panoramas that you will never forget. The most beautiful photos you see of Tuscany come from this paradise!
Watch the video below showcasing the area of the Val d'Orcia and Siena, made by the foundation that manages the museums across the territory, with all of the main sights you'll see.